If you've been putting off orthodontic treatment simply because you don't like to wear uncomfortable, boldly visible metal braces, clear aligners are the way to go; they are hassle-free and almost entirely invisible.
What are clear aligners?
Clear aligners are removable trays made from a flexible polymer. They are designed to be worn over the teeth in order to align them—gradually, and give you a healthy and striking smile. Unlike metal braces, clear aligners are made from transparent material, which makes them virtually invisible when you wear them. Therefore, you won't have to worry about your aligners being visible while attending a meeting or going to a party.
How do clear aligners work?
According to the British Orthodontic Society, the clear aligner system is based on removable aligners, such as mouth-guards. During your first appointment, your orthodontist will take digital impressions of your teeth, which will be visualized through a special software that assesses the type and severity of your orthodontic problem. Based on your treatment needs, your dentist will design a set of numbered aligners that will be prepared using 3D printing technology.
For ideal results, you must wear each aligner set (one for each jaw) for at least 22 hours a day for 14 days. You should then switch to the next set of aligners, which will continue to align your teeth. Once you have sequentially worn all the aligner trays, your teeth will be aligned perfectly, giving you a beautiful smile. Afterwards, your dentist will provide you with either fixed or removable retainers. Retainers stabilise your teeth in their new positions and prevent them from moving back.
Am I a suitable candidate for clear aligner treatment?
Clear aligners treat diverse orthodontic issues—regardless of age. Whether you're sixteen or sixty, you can get your teeth straightened with clear aligners.
What problems can Invisalign fix?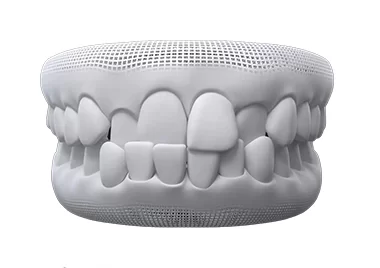 Invisalign treats a variety of dental problems, such as mild to moderate tooth crowding, excessive spaces between teeth, bite problems, etc. In cases of crowded teeth, however, tooth extraction may be done to create space before treatment begins.
Clear aligners versus braces: How do they differ?
Although both clear aligners and braces straighten teeth, they have significant differences. First, dental braces remain fixed to the teeth while clear aligners are removable. Second, brace wearers are advised to avoid hard and sticky foods as they can dislodge the brackets or the orthodontic wire. But there is no food restriction with clear aligners as you can easily remove them before eating and drinking. Removability implies that clear aligners also allow for better oral hygiene than braces, as brushing and flossing do not become a hassle.
Third, clear aligners are comparatively more expensive than braces. For many, however, the aesthetics, comfort, and convenience that clear aligners offer is well worth it in the long run.
Of course, the most apparent difference between the two lies in aesthetics. Conventional braces have a noticeably metallic appearance unlike clear aligners, which are virtually invisible. As such, clear aligners won't affect your smile or appearance when you wear them.
Perfectly aligned teeth make for wonderful smiles, but they also improve speech, chewing, dental hygiene and lower your risk for gum disease. So don't put off straightening crooked teeth if you're anxious about the discomfort and visibility that comes with braces. Clear aligners are what you need—a comfortable orthodontic treatment option that will not turn eating, brushing, and meeting friends and colleagues into a struggle. For more information, visit us at Specialty Dental Clinic to get your teeth straightened and move toward better oral health.